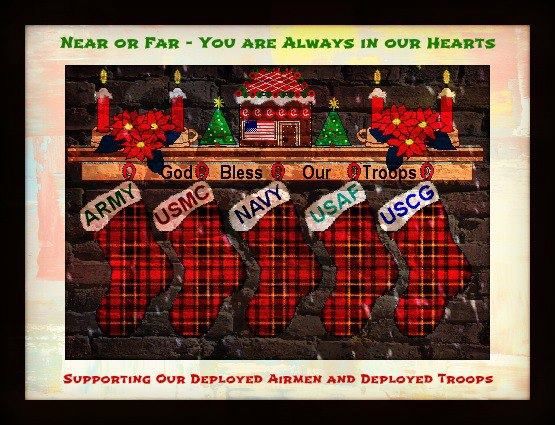 We send year-round care packages to our troops who are deployed overseas, onboard ship, or on submarines and to Veterans homes since July 2005. IRS 501(c)(3) NonProfit Organization EIN 68-0615351
All donations are much appreciated and used for the care packages and sending manufacturers' coupons to military families.
We have NO paid employees; we are all 100% UNPAID VOLUNTEERS and have been since July 2005.
Checks payable to GOODIES FOR OUR TROOPS,
87 Main St. Lower Level, Wellsboro PA 16901
Thought I'd set up this Group for all who're interested and/or donate goodies and/or your "helping hands" for a quick place to check for special events, cancellations, changes, when I'll be at 87 Main St. Downtown Wellsboro PA, and who knows what else?
Please feel free to invite your friends to join the group, and if I've added you but you don't want to be in the group, just delete yourself. Doing this on the fly so am just adding friends starting with "A"!
Thank you all for your support and prayers that have made the difference in so many lives and have enabled us to continue this mission for so many years!
God bless you all and God bless Our Troops and keep those in harm's way safe ...
CONTACT INFO - 570-662-5601 DON'T HAVE TEXTING - Goodies@ptd.net - Facebook Pages Dawn Pletcher, Goodies Forour Troops, and GOODIES FOR OUR TROOPS